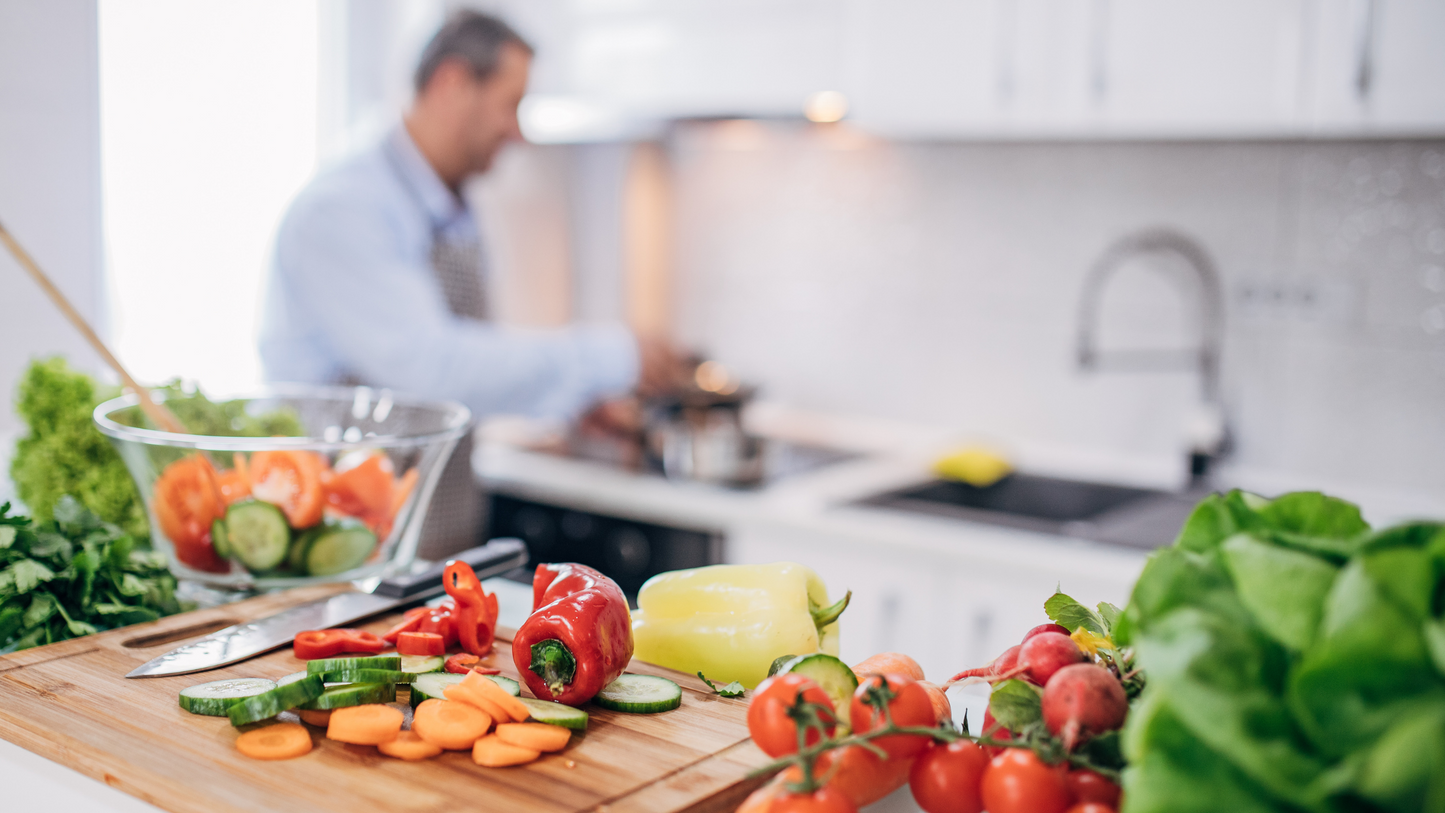 Gout shouldn't keep you from enjoying a delicious meal with your loved ones. The key is to stick to a low-purine diet that consists of a healthy balance of good carbohydrates, clean protein, and healthy greens. A healthy diet accompanied by gout supplements, exercise, and a few lifestyle changes could help reduce the risk of gout attacks.
 Here are some gout-friendly recipes that both you and your family will surely enjoy:
 Pumpkin Pancakes
Being at a healthy weight may reduce the risks of gout attacks. If your doctor prescribed you a low-calorie diet, these pumpkin pancakes are a perfect breakfast option for you. They're a great alternative to the calorie-dense buttermilk version.
 Ingredients:
½ cup canned pumpkin

½ cup low-fat vanilla yogurt

1 large egg yolk

4 large egg whites

¼ cup cake flour

¼ teaspoon baking soda

¼ teaspoon salt

Cooking spray

Maple syrup or honey
 Directions:
Step 1: In a large bowl, sift together the dry ingredients (flour and baking soda), then whisk them together with the egg yolk, yogurt, and pumpkin. Set aside. 
Step 2: In a separate bowl, whisk together the egg whites and salt. Slowly fold them into the pumpkin mixture.
 Step 3: Spray your cooking pan with oil to prevent the batter from sticking. Put the pan over medium heat and pour in ⅓ cup of batter for each pancake. Flip the pancakes gently once the tops are covered with bubbles, and the edges have slightly browned. Cook each side for approximately 3 minutes.
 Step 4: Drizzle a generous amount of maple syrup or honey over the pumpkin pancakes.
Curried Carrot, Sweet Potato, and Ginger Soup
Pureed carrots, sweet potatoes, and flavorful spices make the perfect gout-friendly soup for those cold nights when you crave a warm and filling meal. The root vegetables in this recipe already contain low purine levels, but to make it even more gout-friendly, you can swap the chicken broth for vegetable stock.
 Ingredients:
3 cups sweet potato, peeled and cubed (½ in.)

1 ½ cups carrots, peeled and sliced (¼ in.)

½ cup chopped shallots

1 tablespoon grated ginger

2 teaspoons canola oil

2 teaspoons curry powder

½ teaspoon salt

3 cups fat-free, low-sodium chicken broth or vegetable broth
 Directions:
Heat canola oil in a large saucepan over medium to high heat. Add the chopped shallots and saute for 3 minutes or until tender.
 Add the vegetables, ginger, and curry powder; cook and stir occasionally for 2 minutes. Pour in the chicken or vegetable broth and bring to a boil. Cover the pan, reduce the heat, and simmer for about 25 minutes or until the vegetables are tender. Sprinkle salt to taste.Set aside and cool for a bit before pouring half of the soup into a food processor or blender. Pulse until smooth or you've achieved your desired consistency. Repeat this step with the remaining soup.
Waldorf Salad
Curb your mid-afternoon cravings with a serving of this nutrient-dense salad packed with low-purine nuts, fruits, and leafy greens. This meal takes under 10 minutes to make.
 Ingredients:
2 small Gala or Fuji apples, cubed

1 cup seeded red grapes, halved

⅓ cup dried cranberries

¼ cup coarsely chopped walnuts

¼ cup sliced celery

2 tablespoons low-fat mayonnaise

1 tablespoon lemon juice

8 Boston or Bibb lettuce leaves
 Directions:
In a medium bowl, mix the mayonnaise and lemon juice together, then add the apples, cranberries, and grapes. Mix well. Stir in the walnuts and celery. Serve the mixture on a bed of lettuce leaves and enjoy!
Roasted Chicken with Lemon and Sage
Although meat contains high levels of purine, a small serving occasionally won't hurt. Opt for poultry like chicken and duck, both of which have lower levels of purine than red meat like pork and turkey. This roasted chicken will surely satisfy your meat cravings.
 Ingredients:
1, six-pound chicken

¾ pound carrots, peeled and trimmed

¾ pound parsnips, peeled and trimmed

½ pound turnips, peeled and trimmed

1 pound fingerling potatoes, halved

2 lemons, thinly sliced

6 fresh sage leaves

2 tablespoons fresh thyme, chopped
Directions:
Preheat the oven to 425 degrees Fahrenheit or 218 degrees Celsius. Place the chicken in a roasting pan. Take the six lemon slices and sage leaves and place them under the skin of the chicken. Insert the remaining lemon slices into the chicken cavity. Tie the chicken legs together with twine, and tuck the wings under. After that, brush the chicken with a teaspoon of oil.
Place the chicken in the lower third of the oven and bake for 1 hour and 15 minutes. Once done, carefully transfer the chicken to a cutting board and let it rest for a good 15 minutes.
While waiting for the chicken to cool, cut root vegetables into matchstick shapes and toss with the potatoes into a baking pan. Cover with the remaining oil and thyme. Roast for 45 minutes, stirring occasionally.
Discard the skin from the chicken and remove the lemons from the cavity. Slice the chicken and serve with roasted vegetables.
Peaches with Berry Sauce
Perfect for people with a sweet tooth, this classic peach dessert is a treat you can enjoy without having to worry about a flare-up. It's low in purine and contains antioxidant-rich fruits great for lowering uric acid levels in the body.
 Ingredients:
1 cup fresh berries of your choice

2 peaches, pitted and sliced

2 cups low-fat vanilla ice cream

2 tablespoons honey

1 tablespoon fresh lemon juice

1 tablespoon Grand Marnier (optional)
Directions:
To make the berry sauce: Place the berries, lemon juice, honey, and Grand Marnier in a blender. Pulse until smooth. Using a fine sieve, strain the puree over a medium bowl and set aside.
In a dessert bowl, place 4 slices of peaches, and add a ½ cup of ice cream on top; drizzle a generous amount of the berry sauce.     
Live Your Best Life Despite Gout
Gout attacks are often unpredictable. However, there are some steps you can take to decrease flare-ups and achieve an improved quality of life. Along with trying these gout-friendly recipes, taking prescribed medication, and exercising, you could also benefit from taking supplements.
At GO-OUT, we offer uric acid supplements formulated from 100% natural ingredients. Our products are gluten-free, non-GMO, and not tested on animals. Our GO-OUT Daily Maintenance supplements can be taken alone to help support healthy uric acid levels or paired with GO-OUT Extra Strength for an added nutritional boost.
Reach out today
 to learn more about our products.